"The Non-Stick Oven-Safe Pan That Helps Make Kitchen Life Easier." - Angie W., The Pan customer.
Regular Price:
$149.00
Winter Sale Price:
USD & Free Delivery in the USA and Canada
"The Non-Stick Oven-Safe Pan That Helps Make Kitchen Life Easier." - Angie W., The Pan customer.
Designed to combine all the best features into one, our 11-inch pan boasts a rugged cast aluminum construction and a stainless steel handle making it a hero in the kitchen. Its oven-safe and non-stick ceramic coating means you never have to worry about the most delicate foods sticking to The Pan.
As the most versatile cookware piece in your kitchen, it will become your best friend for years to come. Get The Pan today and elevate your cooking to a professional grade.
Built with substance built to perform.

The Pan is bigger and better than ever. Sauté, boil, fry, sear, roast, poach, steam, braise, or even store your dish in it.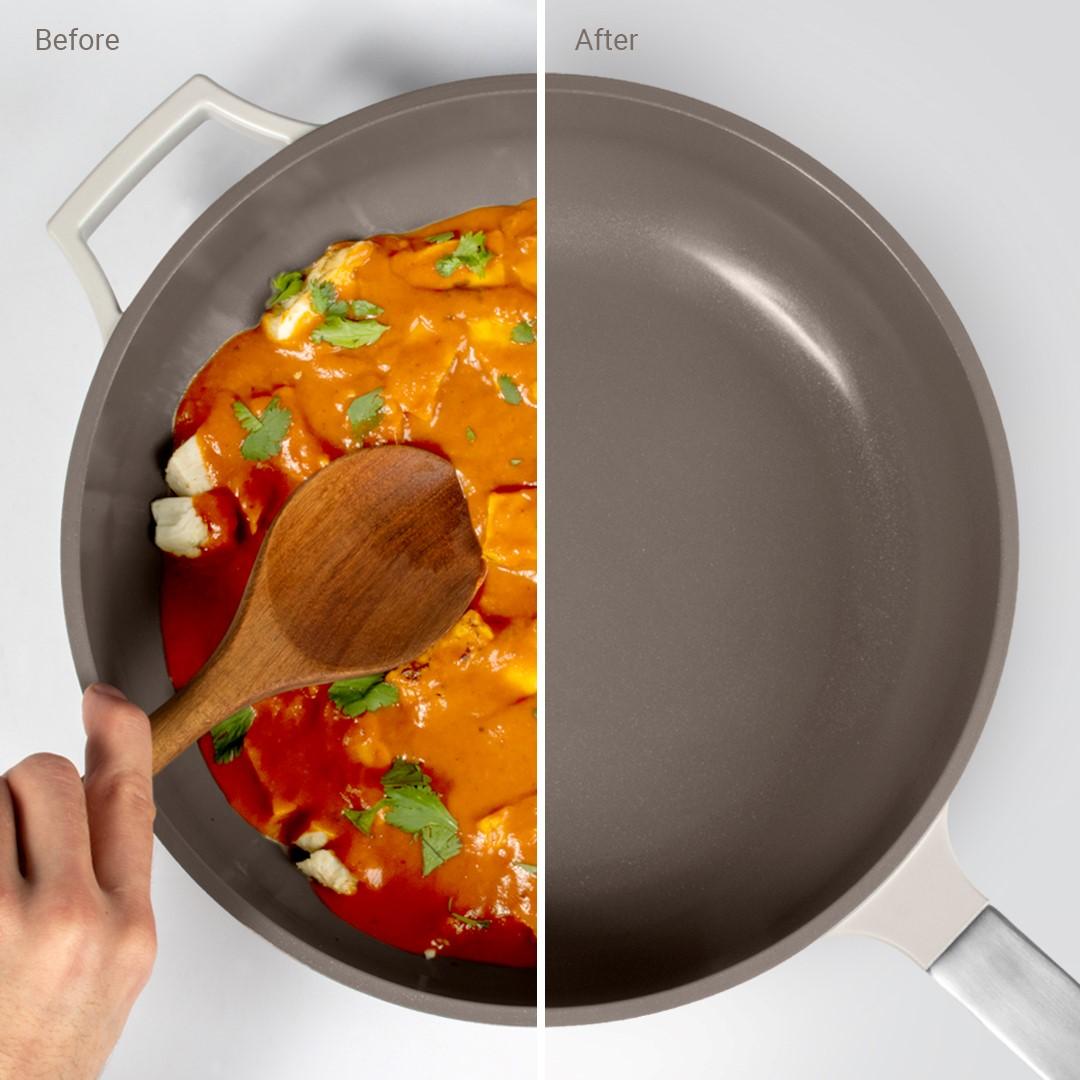 Post-meal cleanup is easier than ever.
Our long-lasting ceramic coating means The Pan is completely non-stick. Cook your favorite meals in The Pan without stressing about the tedious post-meal pan scrub down that many pans require to get off any stubborn stuck-on food.
Best of all it's PTFE, PFOA and heavy metal-free meaning The Pan is 100% non-toxic so you don't have to worry about any toxins transferring from the pan to your food.
Cookware quality is key.
Many often neglect the difference that great cookware makes in the kitchen. High-quality cookware improves heat conductivity, meaning the better and more evenly your food will cook.
More so, investing the extra amount in quality cookware like The Pan will allow you to save money in the future by having just one pan that lasts for years to come. The right tools in the kitchen can make all the difference!
A gift that keeps on giving
Been using it for a full week now and I can't say I don't love it more than my other pieces of cookware.
Pro's - Cool willow color looks beautiful in our kitchen, found it to heat food very well, quality is better than I expected, it's truly a really good pan.
Con's - Only con I can think of is hoping the non-stick coating stays strong which so far is still perfect.
Way better than expected
Was hesitant at first but it turned out to be one of the best investments I've made for my kitchen! If anything happens the 1-year warranty is nice to have
Everyday cook here
I'm probably in the kitchen most of my day and have used all types of pans, I wouldn't lie when I say I really like this pan by Perco. Its 11-inches and 4-quart capacity are some of the best parts of the pan since it's much larger than similar pans on the market. Not to mention the non-stick coating has been holding out very well and yeah I have no complaints. The warranty provides extra peace of mind which is nice too.
perfect for me
I've found it very easy to clean after using. I'm elderly so this has definitely helped make things easier for me compared to breaking my back scrubbing stuck-on food from the last pan I had.
The Pan!
The pan really hasn't left my side, breakfast, lunch, dinner, you won't catch me cooking with anything else!